Our complete shop
CNC Machines
Slater Machine & Tool has a wide range of machines and tools to complete nearly any job. No matter how big or small your job is, our equipment can handle it. From our Fanuc Robodrill T21iFL Pallet Changer to our Haas Minimill we can take care of your needs.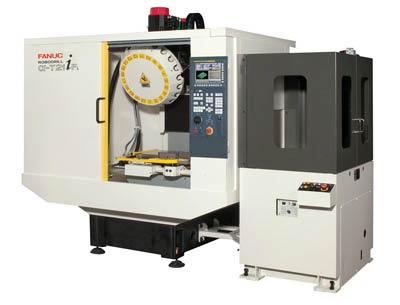 Fanuc Robodrill α-T21iFL
The Robodrill T21iFL Pallet Changer can be adapted from low production runs and JIT production, to high volume production quickly. The pallet changer moves the pallet in and out of the machine in just 6 seconds. Moving 4th axis and hydraulics is simple and easy as well. Precise high-speed contouring allows deburring and chamfering for sophisticated parts such as magnesium mold, die cast, forged or cast parts.
24,000 RPM Spindle
Big Plus Spindle
Pallet Changer
Fanuc Robodrill α-T21iD
The Robodrill T21iD has a highly rigid mechanism that achieves heavy machining efficiency in milling, boring and side cutting. Multi-face machining and contouring makes parts machining easier.
20,000 RPM Spindle
Big Plus Spindle
4-axis
Haas VF-2SS
Based on the shop-proven Haas VF-2 Platform with 30" x 16" x 20" travels, the Super VF-2SS comes standard with an innovative 30 hp vector drive 12,000 RPM inline direct-drive spindle, an ultra-fast tool changer and 1400 ipm rapids. The unique inline, direct-drive system couples the motor directly to the spindle rather than using belts. This machine of ours is set up for 4th axis work.
12,000 RPM Spindle
Direct-Drive Spindle
4-axis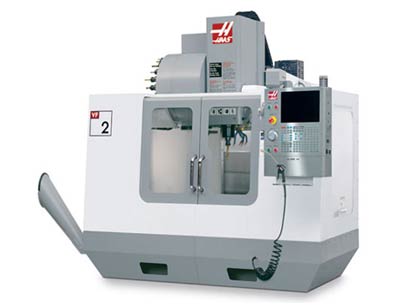 Haas VF-2
The Haas VF-2 vertical machining center has 30" x 16" x 20" travels and is built utilizing vibration-damping cast-iron components. Like every Haas machine, the VF-2 represents years of ongoing refinement. The Haas VF-2 is a rugged, small-footprint vertical machining center that yields reliability and accuracy in a small-framed machine. The VF-2 has a 40-taper cartridge spindle driven by a 20hp vector drive. The VF-2 produces either 75ft-lb of torque at a low 1400 RPM, or 250 ft-lb of torque at 450 RPM.
10,000 RPM Spindle
40-Taper Cartridge Spindle
20 HP Vector Drive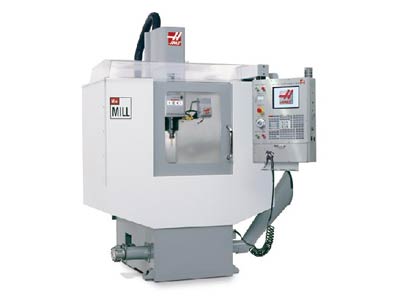 Haas MiniMill
The ever-popular Haas Mini Mill takes up only 6.5' x 6.5' of shop floor space, yet provides a generous work envelope of 16" x 12" x 10". This super-compact machine features a 40-taper spindle, speeds to 6000 RPM, 600 IPM rapids and a 10-pocket automatic tool changer. The Mini Mill is ideal for finish work and cutting aluminum, yet also provides enough low-end torque to cut steel.
6,000 RPM Spindle
40-Taper Spindle
10-pocket tool changer
Support Equipment
To complete our collection of CNC machines we have a wide range of support equipment.
Bandsaw
Manual Mill
K.O. Lee Tool and Cutter Grinder
Drill Press
Surface Plate
Hardcore 2x72 Grinder
Grinders
Arbor Press